Welcome to our apartments Novalja!
We offer multiple apartments in our house on the island of Pag in Novalja. The house is located 80 meters from the sea and the balconies offer a unique sea view. We have 5 apartments in novalja suited for several people. The apartments are equipped with TV / SAT, WIFI, AC..
In front of the house there is a beautiful sandy beach that is suitable for children. In the vicinity of the apartment you can find cafes, restaurants, an ATM, bakery and a bus station from where you can catch the local bus to the party beach Zrce. Zrce beach is located outside the town of Novalja and you can get there by city bus, car or taxi.
The house is only about 1.5 km away from the center of Novalja, which is a pleasant 10-minute walk by the sea, especially in the evening when you can enjoy the beautiful sunset.
Feel free to send us inquiry for reservation in Apartments Novalja.
We look forward to welcoming you and having you stay with us!
Novalja is especially famous for the party beach Zrće which is 4 km away from Novalja. You can reach the beach by car, taxi or city bus. The city bus station is only 100 m away from the house.
In addition to Zrće, the island of Pag and Novalja are famous for Lun olive groves. Here you can see the oldest olive trees, some of which are more than 1600 years old, and take a long and pleasant walk through the olive groves.
Pag and Novalja are also world famous for Pag cheese, Pag salt and salt panes as well as Pag lace. With its network of marked bike trails that run the entire length of the island, Pag offers great cycling opportunities. For several years in a row now, Novalja has hosted a trail race "Life on Mars", where hundreds of runners compete in a demanding race across unforgettable terrain. For more activities, please visit the website of the Novalja Tourist Board.
How to reach our apartment in Novalja?
The island of Pag enjoys excellent transport links to the mainland. During season, ferries run continuously between Prizna and Žigljen. Outside this period, they operate a regular mote than 10 times daily service in both directions. For those arriving from the highway A1, Pag bridge allows them direct access to the mainland. Additionally, multiple bus lines connect Novalja to almost all regions of Croatia, while a fast daily catamaran runs between Novalja and Rab Island as well as the town of Rijeka. Or you can take fast ship from Lun to island Rab.
If you're looking for things to do on the island of Pag, Novalja is the perfect place to start. With its beautiful beaches, stunning landscapes and wealth of activities, enjoying the local cuisine and exploring the picturesque coastline to visiting historical sites and taking part in outdoor activities, there's something for everyone.
What to do on island Pag?
There are also a number of restaurants and bars in the area, making it the perfect place to relax and enjoy the stunning views. If you're looking for something a little more active, why not try your hand at kitesurfing? The island's winds make it the perfect place to learn, and there are plenty of schools offering lessons. Once you've mastered the basics, you can explore the many miles of coastline and take in some truly breathtaking scenery. And finally, no trip to Pag would be complete without sampling some of the delicious seafood on offer.
On island Pag, you must try Pag cheese made from the milk of sheep bred almost exclusively on the island. The sheep feed on immortelle and Mediterranean herbs, giving the cheese its distinctive flavor.
However, if you're hoping to make the most of your time on the island, it's worth considering a few things before you go. One of the most important things to think about is how you'll be getting around. While Pag is relatively big island , there's a lot to see and do.
During your vacation on Pag in the last week of July, make sure you visit the Pag carnival, one of the oldest events of this kind on the Adriatic. Enjoy local arts and crafts, tasty food, and concerts
If you're planning on doing any exploring, renting a scooter is probably your best bet. Not only will this give you the freedom to go where you want, when you want, but it'll also help you avoid crowded buses and long lines at taxi stands. Another thing to keep in mind is that Pag can get very busy during peak season. If you're looking to avoid the crowds, it's best to visit during shoulder season (May-June or September-October). Not only will the weather still be lovely during these months, but you'll also find that prices are lower and attractions are less crowded.
Zrće beach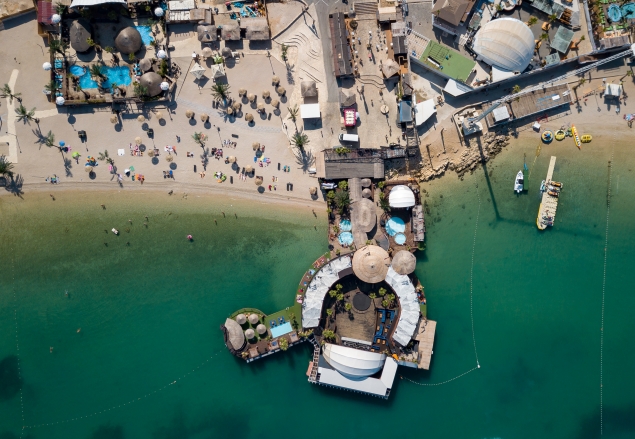 Zrce party beach in Novalja is world-famous for its festivals like Hideout or Sonus. Every year, thousands of people come to experience the non-stop partying that goes on day and night. The music is pumping, the drinks are flowing, and the fun never stops. If you're looking for a place to let loose and have a good time, Zrce party beach is the place for you.
Finally, don't forget to factor in the cost of accommodation when budgeting for your trip, because Novalja can be pricey during high season so send us inquiry on Apartments Novalja