Novalja
Novalja is a town located on the northern part of the island of Pag in Croatia. It is a popular tourist destination, known for its beautiful beaches, crystal-clear waters, and lively nightlife. The town has a population of around 3,500 people and is situated in a bay surrounded by mountains, providing a stunning backdrop for visitors.
Novalja has a rich history dating back to ancient times, with traces of Roman and Byzantine influence still visible today. In the center of the town, you can find the remains of a Roman aqueduct and a basilica from the early Christian era.
Today, Novalja is a bustling tourist town that attracts visitors from all over the world. During the summer months, the town comes alive with events and festivals, including the famous Hideout Festival, which is held annually in the nearby Zrće Beach.
One of the main attractions of Novalja is its beautiful beaches. Zrće Beach is the most famous and popular, known for its vibrant nightlife and water sports activities. Other beaches in the area include Planjka Beach, which offers a more tranquil setting, and Caska Beach, which is known for its ancient Roman ruins.
Aside from its beaches, Novalja also offers a range of activities for visitors, including hiking, cycling, and exploring the island's natural beauty. The town is also home to a range of restaurants and bars, serving up traditional Croatian cuisine and drinks.
Overall, Novalja is a charming town that offers a unique blend of history, culture, and modern-day attractions. Whether you're looking for a relaxing beach holiday or an action-packed adventure, Novalja has something to offer for everyone.
Island Pag
Pag is a Croatian island located in the northern Adriatic Sea. Known for its rugged, rocky terrain and unique blend of traditional and modern culture, Pag is a popular destination for tourists seeking a mix of relaxation and adventure. The island is famous for its production of Paški sir, a distinctive sheep's milk cheese, as well as its vibrant nightlife scene and stunning beaches. Whether you're interested in sampling local delicacies, exploring ancient ruins, or simply soaking up the Mediterranean sun, Pag is a must-visit destination for anyone traveling to Croatia.
Beaches around Novalja
The town of Novalja is located in the north of the island of Pag in Croatia and is known for its beautiful beaches. Here are a few of them:
Zrće
Zrće is the most famous beach in Novalja, which attracts thousands of tourists every year. This sandy beach is about 1.5 km long and offers numerous activities such as water skiing, diving, parasailing and many others. It is also known for its night life and clubs located along the beach.
Straško
Straško is a family beach located between Novalja and Zrće beach. It is a pebbly beach with shallow water that is ideal for children. This beach is known for its pine forests that provide natural shade.
Caska
Caska is another popular beach in Novalja. This pebble beach is surrounded by lush Mediterranean vegetation. It is a good place for swimming and sunbathing, and if you like diving, you can find the remains of an ancient Roman port at the bottom of the sea.
Planjka
The beach is easily accessible and is located just a few minutes away from the town center. It is a sandy beach, which is relatively rare on island Pag, making it an attractive destination for tourists. The beach is also very wide, so there is plenty of space for everyone to enjoy. The water at Planjka beach is shallow and calm, making it a safe place for families with young children to swi
Babe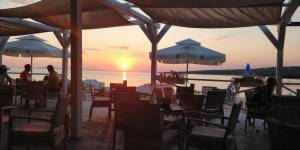 Babe is a small cove located not far from Novalja. These coves offer beautiful pebble beaches with crystal clear water, the perfect place for a peaceful vacation. Babe is a favorite place among the locals and is ideal for those who want to avoid the crowds.
These beaches are just some of the many beautiful beaches that Novalja offers. Regardless of whether you are looking for a lively place with lots of fun and activities, or you want to enjoy peace and quiet, Novalja has a beach that will suit you.